Potato and Parsnip Latkes from the Public Health Cookbook, Seattle and King County Office of Public Health—original source of recipe, in the public domain
Cook Time: About 30 minutes
Serves: 5
Ingredients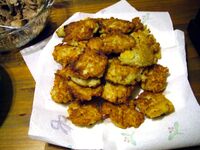 Directions
Place a colander in the sink and line with paper towels.
Add the shredded baking potato, parsnip, sweet potato and sprinkle with the 1 teaspoon salt.
Let stand for about 15–20 minutes.
Gather the ends of the paper towels together and squeeze the potato mixture to remove excess liquid then transfer mixture to a large bowl.
Add flour, onion and pepper and toss well.
Add egg whites and mix well.
Spray a large skillet with nonfat cooking spray then heat to medium-high heat.
Spoon ⅓ cup of the batter into the skillet and cook 4–5 minutes on each side or until browned.
Repeat with rest of mixture.
Serve latkes with a dollop of non-fat sour cream sprinkled with chopped green onion.
Ad blocker interference detected!
Wikia is a free-to-use site that makes money from advertising. We have a modified experience for viewers using ad blockers

Wikia is not accessible if you've made further modifications. Remove the custom ad blocker rule(s) and the page will load as expected.