Description
Edit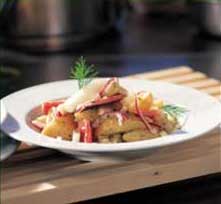 From my one of my great grandmothers. Refined, updated and simplified by my grandmother, preserved by my mother, passed on to me.
Ingredients
Edit
Directions
Edit
Boil potatoes in medium-size saucepan until just tender.
Peel and slice.
Fry bacon until crisp.
Slowly stir in beer and Tabasco sauce.
Bring to boil, stirring constantly.
Pour over potatoes.
Sprinkle with parsley.
Toss lightly and let stand 1 hour.
Add bacon mixture; toss gently and serve.
Ad blocker interference detected!
Wikia is a free-to-use site that makes money from advertising. We have a modified experience for viewers using ad blockers

Wikia is not accessible if you've made further modifications. Remove the custom ad blocker rule(s) and the page will load as expected.