Description
Edit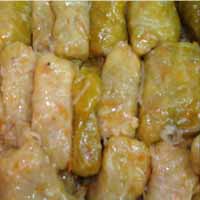 Serbian sarma is similar to Greek dolmas, though it's made with cabbage instead of grape leaves. The usual sarma is made with ground pork and chuck, resulting in a rather disgusting combination of meat, oil and cabbage. We take it down a notch for Lent, during which most days are spent fasting on a vegan diet. Hence: Lenten (posna) sarma.
Ingredients
Edit
Directions
Edit
Cut out the hard core of the cabbage; or, if using sweet cabbage, boil it and then separate each leaf.
Add cooked rice, stir and fry the whole deal.
Scoop approximately a tablespoon onto cabbage leaf and roll that baby up.
Cook over a slow boil (medium heat) for about an hour.
Keep covered until it's time to eat.
Ad blocker interference detected!
Wikia is a free-to-use site that makes money from advertising. We have a modified experience for viewers using ad blockers

Wikia is not accessible if you've made further modifications. Remove the custom ad blocker rule(s) and the page will load as expected.