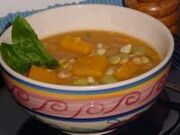 Description
Edit
This recipe is Chilean. Can't wait to try this myself. It's from a special edition of Saveur, The Best of Tex-Mex Cooking. They recommend you use 2 cups dried navy beans soaked overnight, but I've altered the recipe and cooking time for canned. I also halved the amount of oil.
Ingredients
Edit
Directions
Edit
Heat oil in large pot over medium-low heat. Stir in paprika, then add onions and cook until soft, about 15 minutes.
Add navy beans and broth to pot, then add winter squash and lima beans. Cover and simmer over low heat until squash begins to soften, about 30 minutes. Add up to ¼ cup water if mixture becomes too dry.
Ad blocker interference detected!
Wikia is a free-to-use site that makes money from advertising. We have a modified experience for viewers using ad blockers

Wikia is not accessible if you've made further modifications. Remove the custom ad blocker rule(s) and the page will load as expected.