Ad blocker interference detected!
Wikia is a free-to-use site that makes money from advertising. We have a modified experience for viewers using ad blockers

Wikia is not accessible if you've made further modifications. Remove the custom ad blocker rule(s) and the page will load as expected.
Description
Edit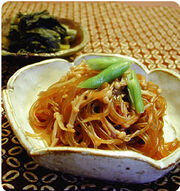 Ingredients
Edit
1 1/2 lbs Pork chops, sliced into thin strips
1 inch fresh ginger, chopped
2 cloves garlic, chopped
1/4 cup soy sauce
2 tablespoons hoisin sauce
2 tablespoons dark sesame oil
1 tablespoon honey
1 teaspoon red pepper flakes, to taste
1 tablespoon cornstarch
1 yellow bell pepper, sliced into strips
1/2 medium Onion, sliced into strips
2 (7 ounces) bags shirataki noodles
Directions
Edit
In a medium bowl, place the first 8 ingriedents, and toss them to combined.
Let it marinade for 4–5 hours, or over night, tossing every few hours.
Heat a little more sesame oil in a large wok or skillet.
Take the Pork out of the marinade, shake off excess marinade, and stir fry in the wok or skillet; season with salt and pepper.
Add the corn starch to the marinade and whisk to dissolve.
Add the peppers and onions when the Pork is fully cooked and stir fry for about 2 minutes.
Add the noodles and marinade, and bring to a boil to thicken sauce.
Other Links
Edit
See also
Edit