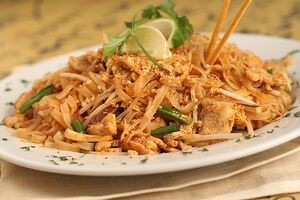 Description
Edit
From Southern Living 2007 Cookoff
Contributed by Catsrecipes Y-Group
Prep:30 minutes + 10 minutes | Cook: 11 minutes
Serves 8 and makes about 2 cups of sauce
Ingredients
Edit
Spicy peanut butter sauce
Edit
Directions
Edit
Cut pork into very thin pieces.
Stir-fry pork in hot oil in a large wok over medium heat 5-8 minutes or until done.
Place pork in a bowl.
Add eggs to wok, and cook, stirring constantly, 1 minute or until set.
Add pork and green onions to wok and saute 1 – 2 minutes.
Stir in spicy peanut butter sauce and hot cooked noodles.
Divide pork mixture evenly between 8 plates.
Place ¼ cup carrots onto left side of each plate and ¼ cup bean sprouts onto right side of each plate.
Sprinkle each serving with chopped peanuts.
Serve immediately.
Spicy peanut butter sauce
Edit
Process all ingredients and ½ cup cold water in food processor 10 – 12 seconds until well blended.
Ad blocker interference detected!
Wikia is a free-to-use site that makes money from advertising. We have a modified experience for viewers using ad blockers

Wikia is not accessible if you've made further modifications. Remove the custom ad blocker rule(s) and the page will load as expected.