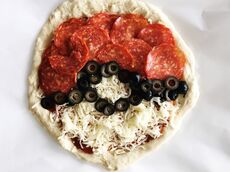 Description
Ever get hungry in the middle of a Pokémon Go marathon? Make a pizza about it!
Ingredients
6-1/2 ounces flour
1-1/2 cups pizza sauce
1 cup pepperoni
Handful black olives, sliced
2 cups shredded part-skim mozzarella cheese
Directions
On a floured surface, knead dough several times. Roll into a 10-inch circle.
Cover surface with mozzarella cheese, leaving an inch for the crust.
Assemble pepperoni and black olives into Poké Ball shape.
Place on greased baking sheet and bake at 425° for 10 minutes, or until crust is golden brown.
GOTTA EAT IT ALL!
Ad blocker interference detected!
Wikia is a free-to-use site that makes money from advertising. We have a modified experience for viewers using ad blockers

Wikia is not accessible if you've made further modifications. Remove the custom ad blocker rule(s) and the page will load as expected.