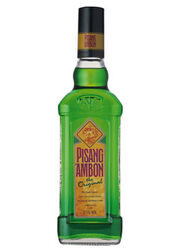 About Pisang Ambon
Edit
Pisang Ambon is a brand of Dutch liqueur produced, distributed and marketed by the House of Lucas Bols. It has a dominating banana flavour, with additional tropical fruit nuances, and a bright green colour. It is based on the recipe of an old Indonesian liqueur. Pisang means banana in Malay/Indonesian and Ambon is the name of an Indonesian island which was once a Dutch colony.
Recently a purple version has been released, called Pisang Ambon Guaraná Lime. Unlike the original, this liqueur is mixed with cola instead of orange juice.
Ad blocker interference detected!
Wikia is a free-to-use site that makes money from advertising. We have a modified experience for viewers using ad blockers

Wikia is not accessible if you've made further modifications. Remove the custom ad blocker rule(s) and the page will load as expected.