Ad blocker interference detected!
Wikia is a free-to-use site that makes money from advertising. We have a modified experience for viewers using ad blockers

Wikia is not accessible if you've made further modifications. Remove the custom ad blocker rule(s) and the page will load as expected.
Description
Edit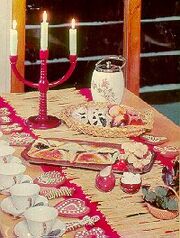 Ingredients
Edit
Directions
Edit
Mix the soda into the milk. Combine the remaining ingredients, including the milk-soda mixture. Mix well, adding flour if the dough seems to stick. Form a ball and place in a plastic bag or a covered bowl and let stand overnight.
Cut into three or four sections. One at a time, roll out into a fairly thin round with a rolling pin, using extra flour if the dough sticks. With cookie cutters, such as star, crescent moon, Santa, angel, etc., cut shapes and bake in a 200 °C (400 °F) oven for about 7-10 mins, or until golden brown on the bottom. Cool flat.
Decorate with frosting, such as comes in CakeMate tubes, or make your own favorite frosting. Let dry overnight. Store in an airtight container.
Other Links
Edit
See also
Edit