Ad blocker interference detected!
Wikia is a free-to-use site that makes money from advertising. We have a modified experience for viewers using ad blockers

Wikia is not accessible if you've made further modifications. Remove the custom ad blocker rule(s) and the page will load as expected.
Description
Pioneer Recipes -- Pioneer and Indian Recipes by the Whitman Mission National Historical Site, National Park Service, US Department of the Interior, public domain government resource—original source of recipe
Cook Time: 35–45 minutes
Serves: 12-15
Ingredients
2 cups stone ground flour
1 cup water
Directions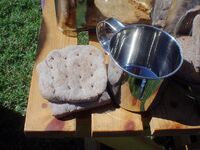 Preheat oven to 400 °F.
Combine the flour and water.
Knead until smooth.
Sprinkle some flour on a smooth surface and roll the dough flat until it is ¼ inch thick.
Cut biscuits out with a can or a glass making each biscuit about 3-4 inches in diameter.
Poke holes into each biscuit with a fork.
Place on a floured cookie sheet.
Bake for 35 to 45 minutes.
It should come out hard and dry.