Description
Inducing a stone-cold aroma into a golden, sweet combination real fruit juice, lemon rind, and milk, this tropical sherbet is great with other desserts or fruits and keeps a great, glorious taste with the fruit. Lime rind, lime juice, and canned pineapples sometimes work for this recipe, too.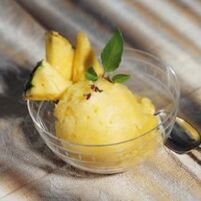 Ingredients
Directions
Combine, in a bowl, the pineapple juice, sugar, lemon juice, lemon rind, and milk.
Pour in and empty the ice-cube tray. Place tray in freezer, and freeze until slushy.
Pour slush into a bowl and beat until softened.
Return the sherbet to the ice-cube tray, and freeze until it is of serving consistency. Serve cold and plain over any fruit, or with other desserts.
Nutritional Information
Servings: 3 scoops per glass or cup
Source