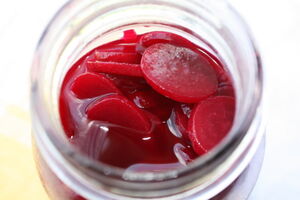 About Pickled beets
Edit
Pickled beets are typically small-sized beets or slices or chunks of larger beets which have been preserved in vinegar, or sometimes brine. They are also available commercially in cans or jars.
Ad blocker interference detected!
Wikia is a free-to-use site that makes money from advertising. We have a modified experience for viewers using ad blockers

Wikia is not accessible if you've made further modifications. Remove the custom ad blocker rule(s) and the page will load as expected.