Description
Edit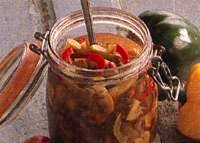 Fresh and tasty is the immediate impression you get when this salad is placed on the table - and so easy to make!!!. And why not make your own mustard vinaigrette to go with it.
Ingredients
Edit
Directions
Edit
The vegetables are cleaned and cut in small pieces.
You can parboil them in salty water to avoid hardness.
Boil the vegetables in the vinegar for 2 minutes.
Remove from vinegar.
Boil the vinegar for 5 minutes and return the vegetables and bring to the boil.
Add the atamon.
Ladle into atamon washed glasses and seal.
Ad blocker interference detected!
Wikia is a free-to-use site that makes money from advertising. We have a modified experience for viewers using ad blockers

Wikia is not accessible if you've made further modifications. Remove the custom ad blocker rule(s) and the page will load as expected.