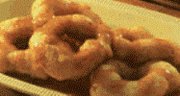 Ingredients
Edit
Directions
Edit
The syrup
Edit
In a small saucepan, combine the dark brown sugar, 1 cup granulated sugar, cinnamon, chili pepper, and cloves with 1 cup water.
Simmer over a low flame for 20 to 25 minutes, stirring occasionally, until the mixture thickens into a syrup.
Set aside to cool.
In a small mixing bowl, combine the milk and yeast with 1 tablespoon of sugar and allow to sit for 5 to 10 minutes, or until creamy.
Stir in the cornstarch and allow to sit a few minutes longer.
Place the puréed squash or sweet potatoes in a large bowl.
Add the yeast-cornstarch mixture and blend thoroughly.
The dough
Edit
Stir in the flour and salt and continue to stir vigorously to make a runny, soft, well-blended dough.
Place the mixing bowl in a draft-free place, cover with a dampened cloth of plastic wrap, and let rise for about 2 hours, or until doubled in bulk.
Deflate the dough with a wooden spoon.
The dough should be soft.
In a deep fryer or heavy saucepan, heat the oil to 325 °F.
Dip out 1 tbs of the dough and, with another tablespoon, scrape the dough into the hot oil and fry until golden.
As soon as they are cooked, remove the picarones from the oil with a slotted spoon and drain on paper towels.
To serve, arrange the picarones on a platter and pour the syrup over them.
Ad blocker interference detected!
Wikia is a free-to-use site that makes money from advertising. We have a modified experience for viewers using ad blockers

Wikia is not accessible if you've made further modifications. Remove the custom ad blocker rule(s) and the page will load as expected.