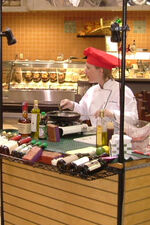 Description
Edit
This golden, baked edition of the chicken is made and mixed with pesto for glorious, colorful taste. You can make this with other spices in a chicken and pesto if you want on other occasions, while it then keeps a luxurious taste with the poultry.
Ingredients
Edit
Directions
Edit
Pulse on your small food processor or processor attachment on a blender, then fill the food processor to the top with washed and dried spinach leaves and pulse until blended twice.
Pound the chicken breasts, thighs, or legs until thin, but not torn, and spread 1-2 tablespoons of pesto on middle of breast half.
Roll into plastic wrap square for each breast and refrigerate for at least 1 hour.
Then dredge in 1 beaten egg and coat with seasoned breadcrumbs.
Fry in ½ cup hot oil on both sides until golden brown (about 7 minutes).
Bake in a heated oven at 350° F, uncovered about 35 minutes until the chicken is 160° C or opaque in the middle.
Let rest while you set the table and light the candles, or make a hollandaise sauce. Serve hot and plain with the homemade pesto.
Ad blocker interference detected!
Wikia is a free-to-use site that makes money from advertising. We have a modified experience for viewers using ad blockers

Wikia is not accessible if you've made further modifications. Remove the custom ad blocker rule(s) and the page will load as expected.