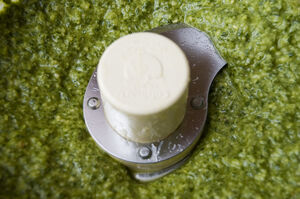 Pesto (Italian pronunciation: [ˈpesto], Genoese: [ˈpestu]) is a sauce originating in Genoa in the Liguria region of northern Italy (pesto alla genovese). The name is the contracted past participle of the Genoese word pestâ (Italian: pestare), which means to pound, to crush, in reference to the sauce's crushed herbs and garlic. This same Latin root through Old French also gave rise to the English word pestle.
Also called Genovese sauce.
Ad blocker interference detected!
Wikia is a free-to-use site that makes money from advertising. We have a modified experience for viewers using ad blockers

Wikia is not accessible if you've made further modifications. Remove the custom ad blocker rule(s) and the page will load as expected.