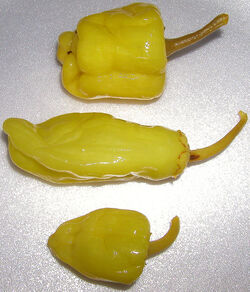 About Pepperoncini
Edit
Pepperoncini are a variety of the species Capsicum annuum, like bell peppers and chili peppers. They are also known as Tuscan peppers, sweet Italian peppers and golden Greek peppers. While called pepperoncini in American English, in Italy these particular kind of peppers are called friggitello (plural friggitelli) or more generally peperone (plural peperoni) like other sweet varieties of peppers, while the term pepperoncini (singular pepperoncino) is used for hotter varieties of chili peppers.
Pepperoncini are typically used in sandwiches, salads (particularly Greek salad, tossed salads served in pizzerias and antipasto platters) and as a garnish to lend dishes a crunchy texture and a salty taste.
Ad blocker interference detected!
Wikia is a free-to-use site that makes money from advertising. We have a modified experience for viewers using ad blockers

Wikia is not accessible if you've made further modifications. Remove the custom ad blocker rule(s) and the page will load as expected.