Description
Edit
Contributed by Catsrecipes Y-Group
Makes 15 to 20 appetizer servings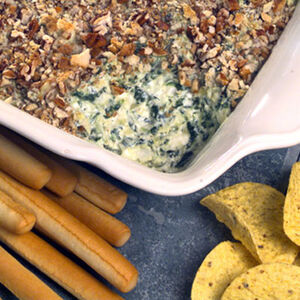 Ingredients
Edit
Directions
Edit
Melt 3 tbsp butter in large skillet.
Add onion and garlic.
Sauté until tender.
Add chopped fresh spinach and cook over medium heat, stirring often, 3 minutes.
Add artichoke hearts and next 4 ingredients, stirring until cheese melts.
Spoon into a greased 2 quart baking dish.
Bake at 350°F for 20 minutes.
Stir gently.
Combine remaining 1 tbsp butter, pecans and stuffing mix.
Toss until blended.
Sprinkle over top of artichoke mixture.
Bake 15 more minutes.
Serve spread with pita chips or French bread.
Ad blocker interference detected!
Wikia is a free-to-use site that makes money from advertising. We have a modified experience for viewers using ad blockers

Wikia is not accessible if you've made further modifications. Remove the custom ad blocker rule(s) and the page will load as expected.