Description
Edit
This brownish, sweet nugget is made and packed with real peanut butter, corn flakes, coconut, and honey, and delivers a golden aroma that it relishes. Chocolate syrup occasionally works for this too.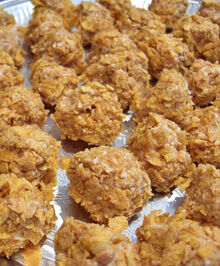 Ingredients
Edit
Directions
Edit
Combine ½ cup corn flake crumbs, coconut, peanut butter and honey; mix thoroughly.
Measure out 2 tsp. portions; shape into balls.
Roll in or with remaining corn flake crumbs.
Chill until firm but store in a covered container in a refrigerator. Serve cold and plain or with peanuts or other desserts.
Ad blocker interference detected!
Wikia is a free-to-use site that makes money from advertising. We have a modified experience for viewers using ad blockers

Wikia is not accessible if you've made further modifications. Remove the custom ad blocker rule(s) and the page will load as expected.