Meat and macaroni pie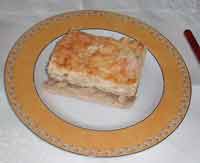 Ingredients
Edit
Directions
Edit
Beat the egg whites and mix in the macaroni.
Keep the yolks.
They will be used to make the béchamel sauce.
Sprinkle with half of the cheese.
Remove from the heat and add the remaining grated cheese. Stir all well.
Prepare the béchamel sauce.
Butter a baking dish.
Lay half of the macaroni in the pan.
Spread evenly with the meat mixture.
Lay the rest of the macaroni on top.
Bake in a moderate oven.
Ad blocker interference detected!
Wikia is a free-to-use site that makes money from advertising. We have a modified experience for viewers using ad blockers

Wikia is not accessible if you've made further modifications. Remove the custom ad blocker rule(s) and the page will load as expected.