Description
Edit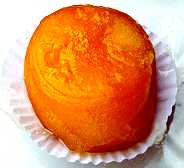 Ingredients
Edit
Directions
Edit
Continue beating until mixture is spongy in texture, then pour into muffin tins that have been buttered.
Set tins in a bain-marie (about one inch of hot water in a shallow pan) and bake in 350° F oven about 15-20 minutes.
Dissolve Sugar in water and bring to a boil, add vanilla extract.
Remove papos de anjo from tins, make 3, 4 holes in each one with a toothpick and drop into boiling syrup.
Remove from heat, let cool and place in a pyrex.
Refrigerate until next day, so papos will soak in the syrup overnight.
Other Links
Edit
See also
Edit
Ad blocker interference detected!
Wikia is a free-to-use site that makes money from advertising. We have a modified experience for viewers using ad blockers

Wikia is not accessible if you've made further modifications. Remove the custom ad blocker rule(s) and the page will load as expected.