Description
Edit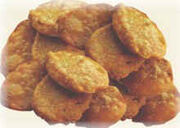 Ingredients
Edit
Directions
Edit
Mix the onions, cayenne pepper, salt and besan (also cilantro and methi). Let it rest for about about 10 minutes to allow the vegetables to sweat. Add some water (only as much as required) to make into a very thick paste.
Heat the oil for about 10 to 15 minutes on medium heat. Pour a spoonful of the paste in the oil and let fry until golden brown. Stir in between. Remove from oil and strain the oil out.
Ad blocker interference detected!
Wikia is a free-to-use site that makes money from advertising. We have a modified experience for viewers using ad blockers

Wikia is not accessible if you've made further modifications. Remove the custom ad blocker rule(s) and the page will load as expected.