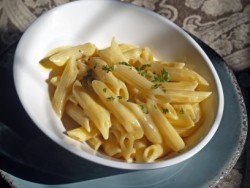 Prep Time: 5 Minutes
Cook time: 10 Minutes
Serves: 4
Description
Edit
This is a recipe that has been pulled from my archives and has been completely updated. My initial recipe was more complicated, I think this recipe is much closer to the first recipe.
Ingredients
Edit
Directions
Edit
Cook pasta according to package directions.
Cube Velveeta in small pieces, so it can melt easily.
In a small sized saucepan combined cubed Velveeta cheese and heavy cream.
Turn the heat on low, and stir until all cheese is melted.
Reduce the heat to simmer until you are ready to combine with the pasta.
Once pasta is done, pour back into the pot where it was cooked, add sauce, and mix well.
If you need to reheat this later, the macaroni and cheese can be made creamy again by adding heavy cream to this.
You can use milk, for this recipe, but the results are much more creamy when you use heavy cream.
Ad blocker interference detected!
Wikia is a free-to-use site that makes money from advertising. We have a modified experience for viewers using ad blockers

Wikia is not accessible if you've made further modifications. Remove the custom ad blocker rule(s) and the page will load as expected.