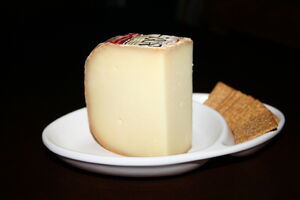 About Ossau-Iraty cheese
Edit
Ossau-Iraty is rather medium-soft light in color and very complex yet delicately smooth flavors. This cheese tastes slightly akin to cow's cheeses of similar texture such as alps cheese. Ossau-Iraty is complex and includes an edible slightly white-moldy tart rind which adds considerably to the experience. This is a creamy, not bitter, not overly sweet, perhaps slightly nutty cheese with a gentleness and ability to please. It finishes richly and smoothly.
Ad blocker interference detected!
Wikia is a free-to-use site that makes money from advertising. We have a modified experience for viewers using ad blockers

Wikia is not accessible if you've made further modifications. Remove the custom ad blocker rule(s) and the page will load as expected.