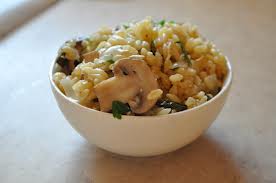 Description
Edit
A TNT recipe
Ingredients
Edit
Directions
Edit
In large skillet, melt the butter.
Sauté onions over medium heat until soft, about 5 minutes.
Add mushrooms.
Cook for another 5 minutes until golden.
Drain in strainer.
Toss orzo with onion/mushroom mixture.
Sprinkle cheese on top.
Tiny Italian noodles can be substituted for orzo.
Chopped water chestnuts can be added with the orzo for a crunchy texture.
Ad blocker interference detected!
Wikia is a free-to-use site that makes money from advertising. We have a modified experience for viewers using ad blockers

Wikia is not accessible if you've made further modifications. Remove the custom ad blocker rule(s) and the page will load as expected.