Description
Edit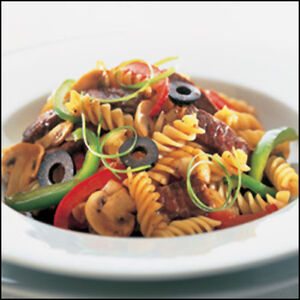 It's very good and you can add whatever vegetables that appeal to your family. This recipe is for 4 servings.
Ingredients
Edit
Directions
Edit
Trim fat from steak.
Slice across the grain in ⅛ inch thick strips; cut into 2-inch lengths.
Cut carrots into ¼ inch pieces.
Using zester, peel rind of oranges into long, narrow strips.
Squeeze oranges to make ⅓ cup of juice.
Whisk together half of the rind, the juice, oyster and soy sauces, sherry, cornstarch and pepper sauce.
In bowl, combine beef with 2 tbs of the sauce and let stand for 20 minutes.
In wok, heat half of the oil over high heat; stir fry beef in batches for 1 - 2 minutes or until browned but still pink inside.
Transfer to plate.
Stir-fry over medium-high heat for 30 seconds or until golden brown.
Cover and cook for 2 more minutes.
Meanwhile, halve snow peas diagonally.
Stir into wok with beef and remaining sauce; bring to boil and cook uncovered for 1 - 2 minutes or until thickened.
Top with remaining rind.
Ad blocker interference detected!
Wikia is a free-to-use site that makes money from advertising. We have a modified experience for viewers using ad blockers

Wikia is not accessible if you've made further modifications. Remove the custom ad blocker rule(s) and the page will load as expected.