Description
Supremely simple to make, this is a delightfully seasoned entrée.
Chicken Supreme from Recipes for Better Nutrition During Cancer Treatment by the National Cancer Institute, public domain government resource—original source of recipe
Cook Time: About 2½ hours
Serves: 6
Ingredients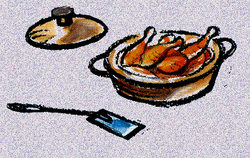 Directions
Combine first four ingredients and pour into greased 2-quart casserole.
Lay chicken on top.
Sprinkle with dry onion soup mix.
Cover casserole, airtight, with heavy aluminum foil.
Bake 2 hours without opening the foil, at 350°F.
Can be frozen after baking.
Ad blocker interference detected!
Wikia is a free-to-use site that makes money from advertising. We have a modified experience for viewers using ad blockers

Wikia is not accessible if you've made further modifications. Remove the custom ad blocker rule(s) and the page will load as expected.