Description
Edit
Veggie pancakes. These patties may remind you of Tempura but are really quite different. Serve them with a nice spicy sauce or with soy sauce. Some like to put butter on them. It depends on your meal or if you are eating them as a snack. They are very tasty. The number of srvings will depend on how you are using them. They make excellent appetizers if you make tiny pancakes.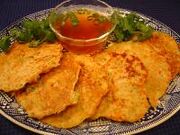 Ingredients
Edit
Directions
Edit
Mix together the veggies.
Mix together the remaining ingredients to form a smooth, pourable batter.
Mix the veggies in the batter the mixture should be of a consistency that you can spoon the patties on to the skillet, if not,adjuster with either water or flour.
On a heated sprayed with oil skillet drop spoonfuls of batter (approx. 3 tbsp per patty).
Your heat should be medium.
Brown well on one side flip and brown on the other.
Serve hot or cold.
Ad blocker interference detected!
Wikia is a free-to-use site that makes money from advertising. We have a modified experience for viewers using ad blockers

Wikia is not accessible if you've made further modifications. Remove the custom ad blocker rule(s) and the page will load as expected.