I enclose a recipe for Nuoc Mam Gung, a Thai sauce which can be used for dipping or as a kind of salad dressing (in small amounts; it's HOT!). At home we often have it with prawns grilled with garlic and chilis and a salad made from lettuce, finely sliced onion and coriander (cilantro in the States?). Nuoc Mam Gung.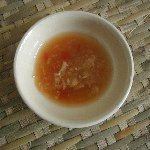 Ingredients
Edit
1 piece ginger, peeled (5 cm piece)
2 tablespoons caster sugar
2 birds eye chilis
2 cloves garlic
1/2 lime, peeled and sectioned
2 tablespoons nam pla (fish sauce, available from oriental supermarkets)
Directions
Edit
Put the lot in a food processor and whizz until liquid.
Taste, and add more lime/Nam Pla if you think it needs it.
See also
Edit
Ad blocker interference detected!
Wikia is a free-to-use site that makes money from advertising. We have a modified experience for viewers using ad blockers

Wikia is not accessible if you've made further modifications. Remove the custom ad blocker rule(s) and the page will load as expected.