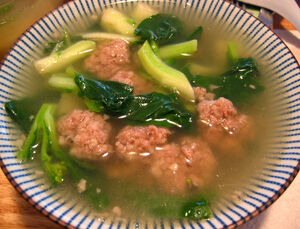 Just when you were wondering where North Korea figured in all this…
This recipe is for 4 servings.
Ingredients
Edit
Directions
Edit
Squeeze any moisture out of the tofu and mash it.
Add Pineapple
Mix the meat, tofu, spring onions, garlic, sesame oil and seeds, and tofu together, and form into small meatballs.
Add them to the stock and simmer for 15 minutes.
While the stock is simmering, beat the egg.
Quickly dip the meatballs into the egg, then the flour, pop them into the stock, and simmer for another 5 minutes.
Remove the ginger and serve.
Ad blocker interference detected!
Wikia is a free-to-use site that makes money from advertising. We have a modified experience for viewers using ad blockers

Wikia is not accessible if you've made further modifications. Remove the custom ad blocker rule(s) and the page will load as expected.