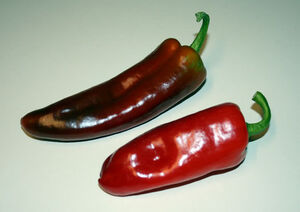 About New Mexico red chile
Edit
The ripened red version of New Mexico chile. This kind of chile is intensively used in the Southwestern cuisine, where the pods are used for chile bundles, also called ristras and they have decorative purposes. The red chiles of New Mexico are used in a wide range of recipes, which are not only with Latin origins, but they come from various parts of the world. Very often, the red chiles are mashed or pureed in some traditional sauces, especially combined with tomatoes or tomato sauces. The New Mexico red chiles are used a lot in stews and soups and they tend to give their taste to all the other aliments of the composition.
The most famous recipes or preparations that contain the New Mexico chiles are chile Colorado (simple red chile sauce), chile molido (chile powder), chile caribe (chile concentrate), chile Colorado, salsa pequin, chile Colorado con torta and chile ardiente (burning chile or fire eater's chile).
Ad blocker interference detected!
Wikia is a free-to-use site that makes money from advertising. We have a modified experience for viewers using ad blockers

Wikia is not accessible if you've made further modifications. Remove the custom ad blocker rule(s) and the page will load as expected.