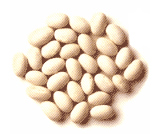 Name Variations
Edit
Yankee bean
white pea bean
pearl haricot
Boston bean
Boston navy bean
pea bean
haricot blanc bean
small white bean
haricot bean
fagioli
Wikipedia Article About Navy Bean on Wikipedia
The small, white navy bean, also called pea bean or haricot, is popular in France, and traditionally the main bean of Anglo-America, used in such dishes as Boston baked beans.
Ad blocker interference detected!
Wikia is a free-to-use site that makes money from advertising. We have a modified experience for viewers using ad blockers

Wikia is not accessible if you've made further modifications. Remove the custom ad blocker rule(s) and the page will load as expected.