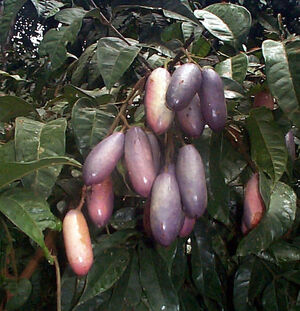 Name variations
Edit
African palm
African pear
bush butter tree
native pear
About native pear
Edit
A traditional food plant in Africa, this little-known fruit has potential to improve nutrition, boost food security, foster rural development and support sustainable landcare.
The main use of D. edulis is its fruit, which can be eaten either raw, cooked in salt water or roasted. Cooked flesh of the fruit has a texture similar to butter. The pulp contains 48% oil and a plantation can produce 7-8 tons of oil per hectare. It is also rich in vitamins.
Ad blocker interference detected!
Wikia is a free-to-use site that makes money from advertising. We have a modified experience for viewers using ad blockers

Wikia is not accessible if you've made further modifications. Remove the custom ad blocker rule(s) and the page will load as expected.