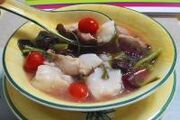 Ingredients
Edit
Directions
Edit
Place the stock in a saucepan;
Add the diced chicken, mushrooms and fish sauce; simmer slowly, uncovered, for 10 minutes;
Check and adjust seasoning; add the tomatoes and chiles and cook for 5 more minutes; stir in the baby spinach and cook 1 minute longer; discard ginger
Serve, topped with shredded basil; garnish with fresh lime wedges in case you want to squeeze some into your soup
Enjoy!.
Ad blocker interference detected!
Wikia is a free-to-use site that makes money from advertising. We have a modified experience for viewers using ad blockers

Wikia is not accessible if you've made further modifications. Remove the custom ad blocker rule(s) and the page will load as expected.