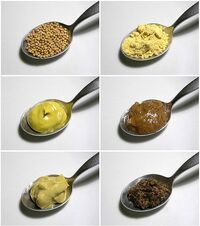 Mustards are several plant species in the genera Brassica and Sinapis whose small mustard seeds are used as a spice and, by grinding and mixing them with water, vinegar or other liquids, are turned into the condiment known as mustard. The seeds are also pressed to make mustard oil, and the edible leaves can be eaten as mustard greens.
Mustard Variations
Edit
Ad blocker interference detected!
Wikia is a free-to-use site that makes money from advertising. We have a modified experience for viewers using ad blockers

Wikia is not accessible if you've made further modifications. Remove the custom ad blocker rule(s) and the page will load as expected.