Description
Edit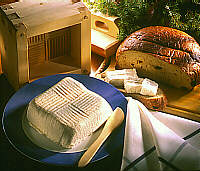 Egg cheese
Ingredients
Edit
Directions
Edit
Bring the milk almost to boiling point.
Continue to cook the milk over low heat, stirring until it curdles.
Remove the saucepan from the stove and let the whey separate in a warm place for half an hour.
Using a slotted spoon, transfer the curds to a sieve lined with muslin.
Lightly press the whey out.
Add the salt, stirring in well.
Place a light weight on the cheese and leave it to stand in a cold place overnight.
Next day, turn the cheese onto an ovenproof dish.
Ad blocker interference detected!
Wikia is a free-to-use site that makes money from advertising. We have a modified experience for viewers using ad blockers

Wikia is not accessible if you've made further modifications. Remove the custom ad blocker rule(s) and the page will load as expected.