Description
This recipe came from the kitchen of Bess Truman and is one of President Truman's favorite recipes. Mrs. Truman had a well-equipped kitchen and often prepared breakfast or lunch for her family. The Trumans also employed several African American women who cooked for the family.
Bess's Recipes from the Harry S. Truman National Historic Site, public domain government resource—original source of recipe
Cook Time: 20 minutes to bake
Ingredients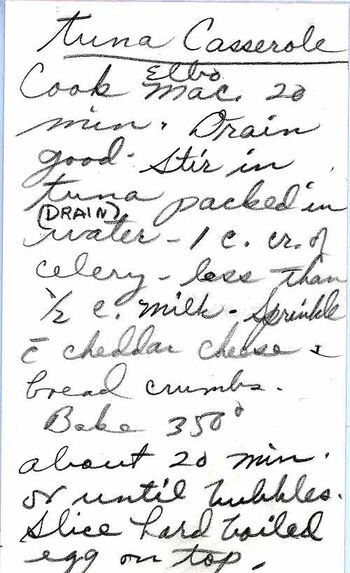 Directions
Cook elbow macaroni for 20 minutes.
Drain well.
Stir in tuna, cream of celery soup and milk.
Sprinkle with cheddar cheese and bread crumbs.
Bake at 350°F for about 20 minutes or until bubbles form.
Slice hard boiled egg on top.
Ad blocker interference detected!
Wikia is a free-to-use site that makes money from advertising. We have a modified experience for viewers using ad blockers

Wikia is not accessible if you've made further modifications. Remove the custom ad blocker rule(s) and the page will load as expected.