Description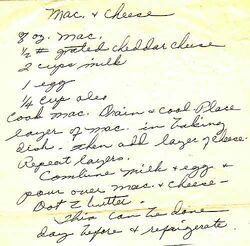 Mrs. Truman's Recipes from the Harry S. Truman National Historic Site, public domain government resource—original source of recipe
This is one of Bess Truman's favorite dishes. Bess Truman had a well-equipped kitchen and often prepared breakfast or lunch for her family. The Trumans also employed several African American women who cooked for the family.
Ingredients
Directions
Cook macaroni. Drain and cool.
Place layer of macaroni in baking
Dish, then add layer of cheese. Repeat layers.
Combine milk and egg. Pour over macaroni and cheese.
Dot with butter.
Ad blocker interference detected!
Wikia is a free-to-use site that makes money from advertising. We have a modified experience for viewers using ad blockers

Wikia is not accessible if you've made further modifications. Remove the custom ad blocker rule(s) and the page will load as expected.