Ingredients
Edit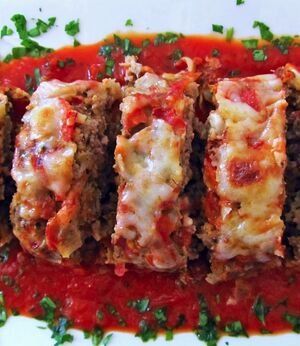 Directions
Edit
Preheat oven to moderate (375°F).
Line jelly-roll pan with aluminum foil.
Combine beef, pork, oats, egg, whites, mozzarella, Parmesan, parsley, optional salt, and pepper in large bowl.
Add vegetable mixture.
Shape into large oval on prepared pan.
Bake in moderate oven (375°F) for 30 minutes.
Brush loaf with catsup.
Bake 25 minutes or until cooked through.
Let stand 10 minute before slicing.
Judi's notes
Edit
I would bake this meat loaf in a loaf pan due to possible grease escaping from the jelly roll pan. I would also spoon off some of the fat from the loaf after 30 minutes.
Ad blocker interference detected!
Wikia is a free-to-use site that makes money from advertising. We have a modified experience for viewers using ad blockers

Wikia is not accessible if you've made further modifications. Remove the custom ad blocker rule(s) and the page will load as expected.