Ad blocker interference detected!
Wikia is a free-to-use site that makes money from advertising. We have a modified experience for viewers using ad blockers

Wikia is not accessible if you've made further modifications. Remove the custom ad blocker rule(s) and the page will load as expected.
Description
Edit
Peas Kachori. Perfect comfort food for a winter morning. And if there's a cup of hot chai to accompany it, that would be perfection perfected, no?
Ingredients
Edit
Kachori (pancake) dough
Edit
Directions
Edit
Shell out the peas or use frozen ones and wash them.
Add a little water if required.
Heat 1 tablespoon oil in a skillet and drop the cumin seeds and asafoetida (hing) powder.
When the cumin seeds begin to splutter, add the peas paste and keep stirring, until the water dries out and the oil starts separating.
Keep aside and let it cool.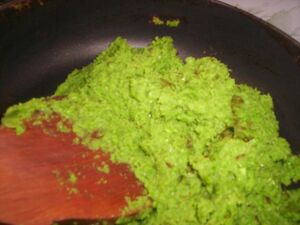 Kachori (pancake) dough
Edit
Sift flour into a bowl.
Add the baking powder, a little salt, and two tablespoons of oil in it.
Mix well.
Add water and knead into a tight dough of medium consistency (dough should be neither too soft nor too hard).
The grand finale: Making the kachoris
Edit
Make small balls from the dough.
Roll each ball within your palms, make a cavity and fill it with a teaspoon of the filling.
Close the ball and smoothen it by rolling within the palms.
Using a rolling pin, roll the balls out into small pancakes.
Deep fry until golden brown.
Serve hot with any chutney/pickle.
Recipe by (Lima) beans and Delhi Cha(a)t Blog
Edit
The blog created by Sury from from New Delhi, India and Cesar from Lima, Peru, offers a valuable resource for anyone interested in Indian and Peruvian cuisine. Here you will find information for unique dishes and other food categories that will make your mouth water. You can reach this wealth of information at the following URL: limadelhi.blogspot.com