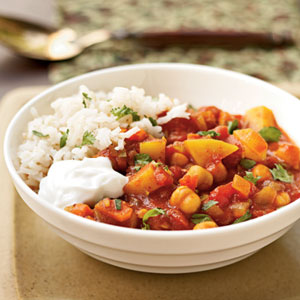 Description
Edit
This flavorful chicken entree proves that weight loss is no longer a matter of deprivation. On the South Beach diet, you can lose weight, improve your health, and eat scrumptious and satisfying foods! Don't be scared off by the number of ingredients in this dish; it all comes together quickly for a hearty yet slightly exotic meal. Remember to save some of the liquid drained from the beans for your sauce.
Ingredients
Edit
Directions
Edit
Combine a teaspoon of the oil with the vinegar, cumin,coriander, cinnamon, salt, and pepper in a glass dish.
Add chicken breasts; turn to coat.
Cover with plastic wrap;refrigerate for up to 6 hours.
Heat remaining tablespoon of oil in large nonstick skillet over medium heat.
Add chicken and cook, 4 minutes per side,or until cooked through.
Using tongs, transfer chicken to platter; tent with foil to keep warm.
In same skillet, cook eggplant and onion 8 minutes, until soft and slightly browned, stirring often.
Stir in garbanzo beans with liquid,tomatoes, and lemon juice.
Cook 3 minutes, smashing the tomatoes with a wooden spoon and stirring to blend flavors and warm through.
Nutritional information
Edit
Per serving:
450 Calories | 40g Protein | 42g Carbs | 7g Fiber | 15g Total Fat | 2g Saturated Fat | 74 mg Cholesterol | 642 mg Sodium
Ad blocker interference detected!
Wikia is a free-to-use site that makes money from advertising. We have a modified experience for viewers using ad blockers

Wikia is not accessible if you've made further modifications. Remove the custom ad blocker rule(s) and the page will load as expected.