Description
Edit
Puffin in milk sauce
I don't care much for puffin and other sea-birds as food, but many people love them and eat them whenever they can. This recipe resembles the recipe for rock ptarmigan, in that the birds are cooked in milk.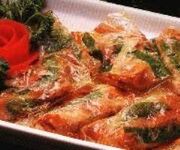 Ingredients
Edit
Directions
Edit
Puffins should be skinned or carefully plucked and singed.
Remove the innards and discard.
You can use the breasts alone, or cook the whole birds.
If you are using whole birds, truss them.
Draw strips of bacon through the breasts.
Brown the birds on all sides, and stuff the birds tightly into a cooking pot.
Bring to the boil and cook on low for 1-2 hours (test the birds for softness).
Turn the birds occasionally.
Remove from the cooking liquid and keep warm while you prepare the sauce.
Ad blocker interference detected!
Wikia is a free-to-use site that makes money from advertising. We have a modified experience for viewers using ad blockers

Wikia is not accessible if you've made further modifications. Remove the custom ad blocker rule(s) and the page will load as expected.