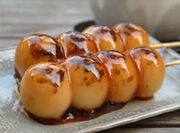 Mitarashi Dango (みたらし団子、御手洗団子) is a Japanese treat originating from Kyoto that is a type of skewered dango which has been covered in sweet soy sauce.
Mitarashi Dango is sold in many stores across Japan, however store bought dango have a higher sugar content than the dango sold at more traditional Japanese dango sweets shops and tea houses.
Ad blocker interference detected!
Wikia is a free-to-use site that makes money from advertising. We have a modified experience for viewers using ad blockers

Wikia is not accessible if you've made further modifications. Remove the custom ad blocker rule(s) and the page will load as expected.