Ingredients
Edit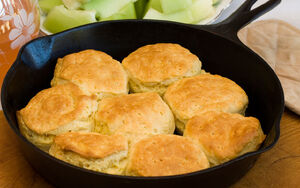 2 cups Pioneer Biscuit Mix, plus small amount of additional mix
1 cup sour cream
½ cup Sprite or 7-Up
½ stick butter
Directions
Edit
Using a pie or pastry blender, mix Pioneer Biscuit Mix with sour cream and Sprite or 7-Up.
Sprinkle extra biscuit mix onto a pastry sheet or wax paper and add dough.
Press down dough and use a biscuit cutter to cut biscuits.
Melt butter in an iron skillet and dip cut biscuits in skillet. Then place biscuits on a baking sheet.
Cook in oven at 375°F for 20 minutes or until golden brown.
Ad blocker interference detected!
Wikia is a free-to-use site that makes money from advertising. We have a modified experience for viewers using ad blockers

Wikia is not accessible if you've made further modifications. Remove the custom ad blocker rule(s) and the page will load as expected.