Description
Edit
Very simple to make, and really flavoursome, ideal winter breakfast or all-purpose soup. Based on a recipe from my asian cookbook, but that was too salty, so I changed it.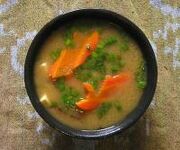 Ingredients
Edit
Directions
Edit
Slice shiitake mushrooms.
Slice up green part of scallion, to garnish later.
Bring water (with stcok if desired) to boil.
Lower heat, simmer for 5 minutes.
Pour into serving dish, sprinkle scallion on.
Serve immediately.
Ad blocker interference detected!
Wikia is a free-to-use site that makes money from advertising. We have a modified experience for viewers using ad blockers

Wikia is not accessible if you've made further modifications. Remove the custom ad blocker rule(s) and the page will load as expected.