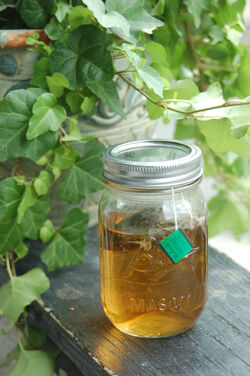 Ingredients
water
2 bags of black tea, or mint black tea
1/4 cup torn mint leaves
slice of lemon
Ball or Mason jar (or any other glass jar with a lid)
Directions
Put all of the ingredients in your glass jar and fill it with water. Seal the top of your jar and place it in direct sunlight for about 6 hours. You can adjust the time depending upon how dark you like your tea.
When the tea looks too good not to drink, strain or remove the leaves, lemon, and tea bag. The tea can be drunk warm direct from the sun, or on ice.
External Links
Ad blocker interference detected!
Wikia is a free-to-use site that makes money from advertising. We have a modified experience for viewers using ad blockers

Wikia is not accessible if you've made further modifications. Remove the custom ad blocker rule(s) and the page will load as expected.