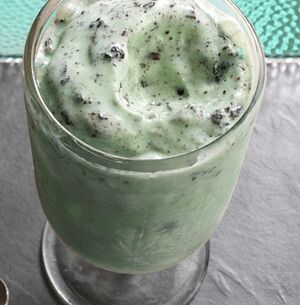 Ingredients
Edit
3 cup cold skim milk
1 pack (4-serving size) jell-o
-pistachio flavor sugar-free
-instant pudding and pie
-filling
1/4 tsp peppermint extract
1/2 oz (square) baker's semi-sweet
-chocolate, grated
Directions
Edit
for diabetics, be sure to use a Sugar free frozen dairy dessert in place of the ice milk. : pour milk into blender container. Add pudding mix, ice milk and extract; cover. Blend at high speed 15 seconds or until smooth. (mixture thickens as it stands. Thin with additional milk, if desired). Sprinkle individual servings with grated chocolate. Makes 5 cups or 5 servings. : nutritional information per serving: calories - 150, protein - 7 gm., fat - 3 gm., carbohydrates - 24 gm., cholesterol - 10 mg., sodium - 380 mg. Diabetic exchanges: 2% lowfat milk - ½, starch/bread - :
Other links
Edit
See also
Edit
Ad blocker interference detected!
Wikia is a free-to-use site that makes money from advertising. We have a modified experience for viewers using ad blockers

Wikia is not accessible if you've made further modifications. Remove the custom ad blocker rule(s) and the page will load as expected.