Description
Edit
This is THE Lamb SOUP for a quiet, intimate evening on a rainy day. My family uses white Burgundy wine which blends wonderfully with the vegetables and ends up tasting a bit sweet. Children wont even know there's wine in the soup. celery gives a rustic, fresh taste. TRULY, WONDERFUL RUSTIC TASTING SOUP. Got the recipe from Pietro Petroni's : The Complete Book of Florentine Cooking while I was in Florence.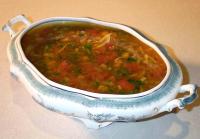 Ingredients
Edit
Directions
Edit
After a few minutes, add the wine and allow to evaporate completely, then add the tomatoes
Continue to cook over a low heat for about one hour, then add the broth.
Finally add the noodles and cook for a few minutes.
Serve with freshly ground pepper.
Ad blocker interference detected!
Wikia is a free-to-use site that makes money from advertising. We have a modified experience for viewers using ad blockers

Wikia is not accessible if you've made further modifications. Remove the custom ad blocker rule(s) and the page will load as expected.