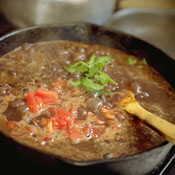 Ingredients
Edit
Directions
Edit
Soak the black beans for 2 hours and drain.
In a deep pot, heat the olive oil over medium heat.
Add the onions and cook about 5 minutes.
Until translucent.
Bring to a boil, skimming any foam that rises to the surface.
Reduce to a simmer.
In an hour or when the beans are soft, add the tomato, epazote, chipotle chile, cumin, coriander, and salt.
Continue cooking until the beans start to break down and the broth begins to thicken.
If you're serving this soup immediately, you may want to thicken it by puréeing a cup or two of the beans in a blender or food processor and then recombining them with the rest of the soup.
The soup will thicken on its own if refrigerated overnight.
Ad blocker interference detected!
Wikia is a free-to-use site that makes money from advertising. We have a modified experience for viewers using ad blockers

Wikia is not accessible if you've made further modifications. Remove the custom ad blocker rule(s) and the page will load as expected.