Description
Edit
NOTE: You will need a small Parisienne melon scoop for this recipe.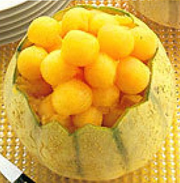 Ingredients
Edit
Directions
Edit
Use a sharp knife to slice the top off the melon.
If possible, try to cut a zig-zag design to make a crown-like appearance.
Remove the top, then scoop out the seeds.
Use the Parisienne melon scoop to scoop out the flesh in small pearls.
After you have scooped out as much of the melon flesh as possible, fill up the empty shell with a glass of the port wine, then replace the pearls in the shell.
Chill for 30 minutes before serving.
Ad blocker interference detected!
Wikia is a free-to-use site that makes money from advertising. We have a modified experience for viewers using ad blockers

Wikia is not accessible if you've made further modifications. Remove the custom ad blocker rule(s) and the page will load as expected.